Last time I finished talking about Shopify and dropshipping, interested friends might think: Okay, how do I use Shopify to build a website?
Shopify store registration
First of all, before you register a Shopify store of your own, prepare these: a computer, a credit card with visa or master, a normal mailbox (do not use domestic mailboxes such as 126/163/QQ, Gmail is recommended), Make sure to close all ladder tools.
1. Log in to the official website, http://www. shopify.com, Enter your email, click "Start Free Trial"

Enter your email, password, shop name (you can modify the shop name)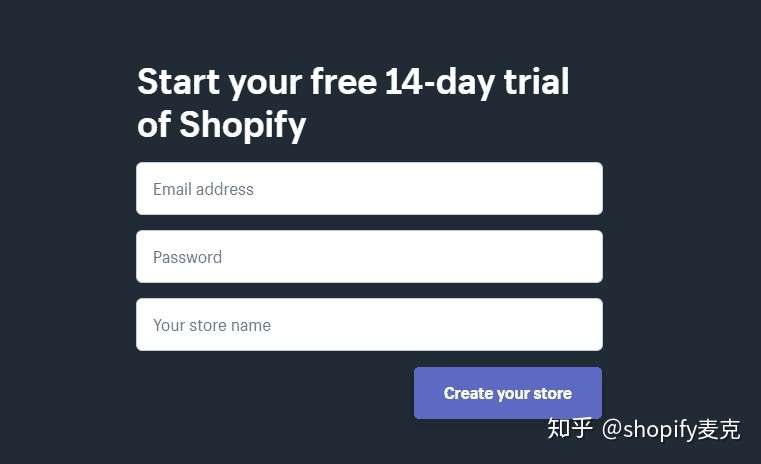 Click "Create Your Store" and follow the instructions below, the store will be created successfully.
After successful creation, background browsing:
Shopify's operation interface is very simple and easy to understand. If there is any unclear contact customer service, the feedback is also very timely.
Personally want to start a shopify business, welcome to pay attention to the official account: shopify Mike, and join teacher Mike's one-on-one tutoring.
Talk about shopify charges and payment methods
1. After the 14-day trial period is over, Shopify stores charge a monthly fee. The fee consists of two parts: the basic monthly rent and the turnover commission. The basic monthly rent determines the commission ratio. The basic monthly rent has three options of 29 USD/month (commission ratio 2%), 79 USD/month (commission ratio 1%), and 229 USD/month (commission ratio 0.5%). For example, if you choose the US$29 level, and the monthly turnover reaches US$1000, the monthly shopify fee is 29+1000*2%=20+29=49 US
dollars2. Shopify's store payment, click Settings-Billing in the background to add payment Method, currently supports master/visa credit card and PayPal.

Congratulations, one step further than others, I have my own shopify stand-alone station, just like finally having my own Qingshui apartment. Next, if we want the apartment to have our own style, we need to decorate, that is, choose the right template. Design the store.
Template selection
Faced with the dazzling array of templates in official stores and third-party stores, you must feel at a loss. Are you going to use the officially recommended paid templates? Or try the free template first? Or use third-party templates? I also stepped on a lot of pits in this part, wasting a lot of time and energy. I remember when I first started making shopify, I tried a lot of free and paid templates, and spent a lot of time on the templates. Now I will share my experience with you.
The template is the basis of the entire store, just like the base decoration in the decoration. Because the first feeling that a customer enters your store is very important, and it basically determines his trust in your store. With a strong sense of trust and a high purchase conversion rate, customers can place orders with you. Just like when you go to a Taobao store, some stores do not have logos, images are fuzzy, descriptions are not clear, and there are typos. You would not consider buying things in such stores.
Shopify provides about ten free templates, which can be found in the back-end-online store-themes. I personally recommend everyone to choose "Debut" and "Brooklyn". These two templates fully meet the needs of new sellers or single product stations.

Here are all official free templates,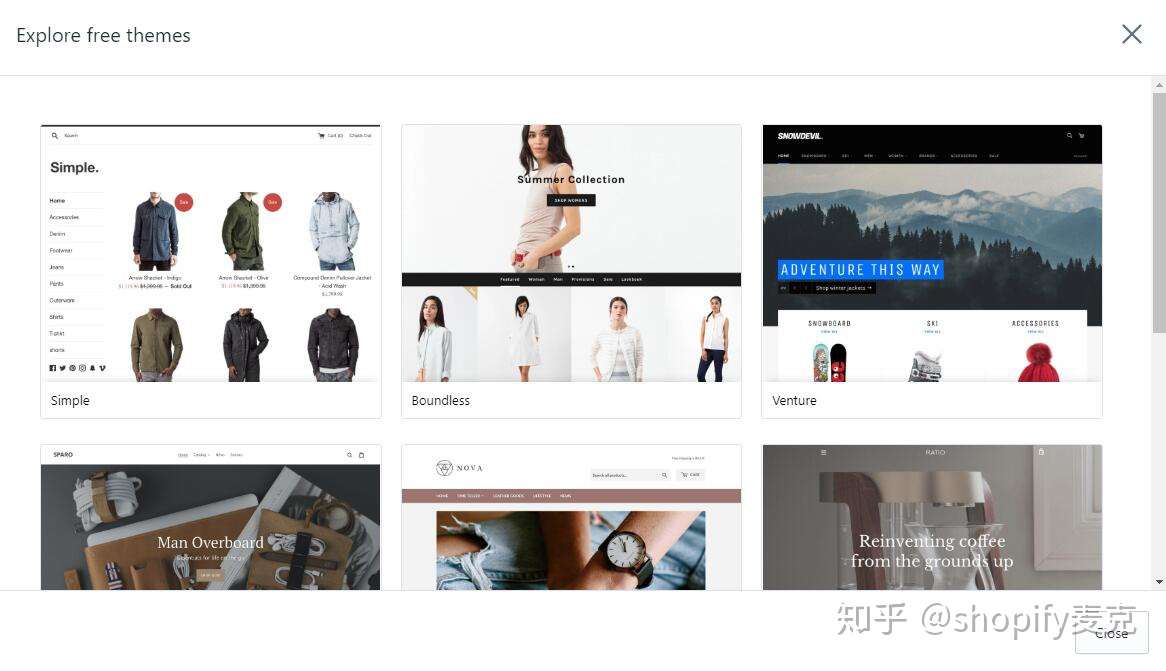 Select a template, select the style, and click add to theme library.
Paid templates are divided into two types: Shopify official and third-party providers. Paid templates are definitely better in function and effect overall, and are more suitable for high-end sellers. For small sellers, I do not recommend paid templates for the following reasons:
1) You need to choose carefully. Not just a paid template is suitable for your shop.
2) It takes more time to configure the payment template. There are many functions, good effects, and there are many configurations to be operated. Just like household appliances, the more functions, the more complicated the operation, and the corresponding problems will be troublesome to repair. Although the templates sold in official stores and third-party stores are supported by customer service, this kind of thing that requires multiple communication will consume you some time and energy, and some third-party template customer services are in non-English speaking countries. Everyone has time difference and language barriers. I always Think: Individual dropshipping should focus on the most core work.
3) Expenses. The official paid templates are basically more than 140 dollars. Well-known third-party store theme forest ( https:// themeforest.net/) Shopify templates are cheaper, generally starting at $40, but you also need to choose carefully.
The main page of the theme park website looks like this: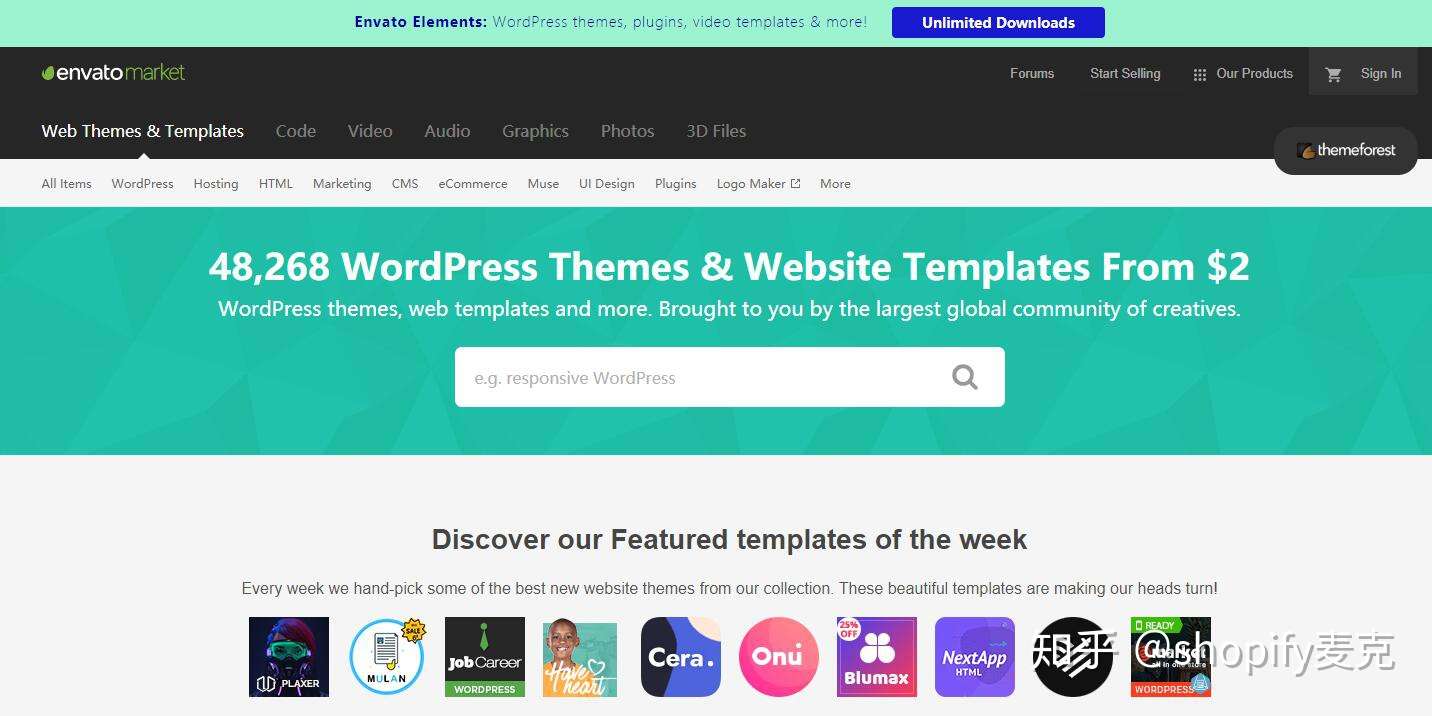 Some friends may still want to consider paid templates. No matter what channel you buy theme templates, in the selection process, the following points need special attention:
1. Buy paid themes from formal channels. Don't download some free ones, which are unreliable and extremely risky. Just like small household appliances from non-famous manufacturers, big problems may arise. Don't be greedy here. .
2. According to the characteristics of your products, choose the right theme. Don't have a style that doesn't match at all. It looks very awkward and not professional enough.
3. Do not add too many elements to your theme, it will slow down the opening speed of the website and affect the shopping experience.
4. Carefully check the evaluation of the theme, look at the advantages and disadvantages of the theme, and then decide to buy after comprehensive weighing.
5. Whether it is adaptive. Because shopping is becoming more and more mobile-oriented, it is very important that the store can be displayed perfectly on different models of mobile phones.
Now that the template is selected, it can be customized in the background. Background customization is a fool-like operation, and there is no threshold. If you have any questions about the template, please ask me in the comments.
Personally want to start a Shopify business, welcome to pay attention to the official account: Shopify Mike, and join teacher Mike's one-on-one tutoring.
Shopify essential app
An app is equivalent to a plug-in. After you add this app, your store will have the function of this app. It is the same concept as the smartphone app. Does anyone think this is important? This is especially important! Take the simplest example of an app. If your iPhone does not have an app, is it inconvenient and less fun for you? :
1. Loox-the best app for reviewing reviews, it can directly collect the reviews on AliExpress, and another good feature is to send review requests to customers for you. After you set the number of days to send, Loox will automatically send an email to the customer asking for comments and at the same time send him a discount code to attract another order. If the review given by the customer is not good, you can follow up and improve customer satisfaction. Foreigners also value good reviews. Two products are exactly the same. One is full of good reviews and the other has nothing. Of course, they will choose the first one. I personally think that loox is currently the best review app, and I highly recommend it! There are 3 package standards for his price. Different services and quantities have different prices. It is enough for newbies to choose the cheapest package. In addition, if you click this link, you can also have a free trial period of up to 30 days: https:/ / loox.io/app/extended_tr IAL
2. Oberlo-product selection + products on the shelf + quick ordering app, which can study product sales and trends in various vertical fields, help you choose products as a reference, and can also import products on AliExpress with one click, including pictures and introductions Of course, you need to further process the pictures and introduction later. It just saves the time of manually uploading the product. Finally, when there is an order, you can use it to place an order, eliminating the need to manually enter the consignee information and improve work efficiency. This is also one of the essential apps for dropshipping.
3. BEST Currency Converter- Convert currency based on user IP. For example, website visitors in Canada will see the currency unit and price in Canadian dollars, and the currency unit and price in US dollars in the United States, which is more user-friendly. The free version supports fewer currency units than the paid version, and you can choose a paid package if necessary.
4. Omnisend Email Marketing-email marketing plus individual visitor access tracking, free functions for novice users and small sellers are enough.
other aspects:
It is recommended to improve these pages and list them in the website directory: About Us, Contact Us, Delivery, FAQ, Tracking Orders, Return and Exchange Policy, Refund Policy, Privacy Policy, Service Agreement (Shopify background has templates for the latter three)
The domain name and space purchase: I have always used godaddy, which is safe and stable, and cheap. I have official discount codes here. If you need it, you can contact me directly.
Make LOGO: https:// logotypemaker.com/